Welcome to Unistyle Plastics (Engineering) Limited.
We provide the complete plastic fabrication facility and because of our established procurement chain we are also able to supply a diverse range of materials.
No job is too trivial or daunting for us!
Unistyle Plastics specialise in the production of plastic fabricated products for many different market sectors including;
Plating

Medical

Chemical

Water Treatment

Aerospace

Food Processing

Schools / Colleges
This website will provide you with an insight into who we are and what we can offer you as your future plastic fabrication supplier.
Please browse through the various pages to gain more information of our capabilities.
If you require any further assistance please contact the team at Unistyle Plastics to discuss your requirements.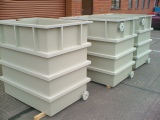 Cation Polishing Plant: UPVC Pipework assembled and mounted on one of our own fabricated, chemically resistant Polypropylene Skids.
Beige Polypropylene Tanks, approx. 1000 litre capacity, supplied as part of a new plating line.